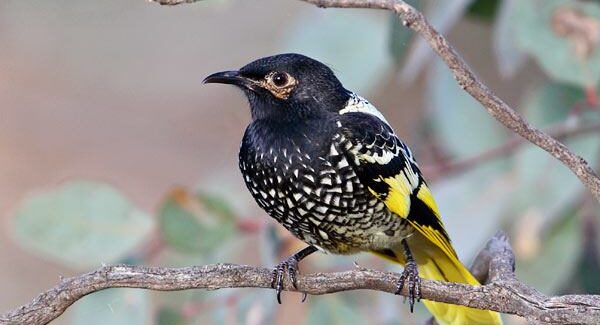 Winton Solar Farm Supports Regent Honeyeater Project
November 19, 2020
14ha of new plantings completed by Regent Honeyeater Project
14 hectares of significant native vegetation has been planted by the Regent Honeyeater Project on two sites within the Winton Wetlands Reserve, providing new habitat for protected species and enhancing the biodiversity of the area.
The plantings, sponsored by FRV, the owner of the 85MW Winton Solar Farm, were completed by a small group of Drought Assistance workers and were completed despite Stage 3 Coronavirus restrictions.
Regent Honeyeater Project President, Rob Richardson, said "it was a great outcome to see the plantings completed, despite the volunteer organisation having to cease its volunteer planting activities during lockdown."
"These plantings help connect our existing tapestry of corridor plantings and revegetation works across the Winton Reserve and will provide indigenous habitat for Squirrel Gliders and a range of Woodland birds," he said.
"With FRV providing financial support for these plantings, we have been able to complete two further parts of an overall program that will make up a 20 kilometre corridor of native vegetation plantings and habitat extending from  west of  Yarrawonga Rd to the Warby Ranges," he said.
The Regent Honeyeater Project has also partnered with FRV to provide specialist advice on tree stock and habitat development within new vegetation buffers to be planted at the  Winton Solar Farm  site.
Regent Honeyeater Project volunteers have successfully documented increases in protected species of animals and rare birds in areas planted as 'biodiversity corridors' – land parcels that are a minimum of 40 metres wide to allow sufficient space for species to establish and thrive.
Local landholders and Regent Honeyeater supporters recently reported sightings of the critically endangered Regent Honeyeater, the species for which the not-for-profit group is named.  This is the first time a breeding family of the birds has been sighted in the Winton – Glenrowan West area for many years.
Project sponsor FRV is monitoring the plantings to better understand how vegetation buffers can be included as part of its solar farm developments to deliver dual biodiversity and species protection benefits.
"The Regent Honeyeater Project has been instrumental in guiding us as to which native species are best suited for perimeter plantings at the Winton Solar Farm site," FRV Managing Director, Carlo Frigerio said.
"We're really keen to see evidence from the Regent Honeyeater Project's latest plantings on how to create healthy, sustainable wildlife habitat and potentially how plantings of this nature can be incorporated into future solar farm designs," he said.
FRV have entered into a five-year partnership with the Regent Honeyeater Project, one of the most active volunteer conservation projects in the nation.
In addition to supporting new biodiversity and habitat corridors and the planting of approximately 1,000 new trees, FRV is keen to support the Regent Honeyeater Group to attract and engage volunteers in its planting programs.
"COVID-19 has certainly caused significant disruption to our planting capacities and schedules given we rely heavily on volunteers and visitors to the region," Mr Richardson said.
"The irony was that this was an almost Perfect 10 planting season, so we are grateful that this program of works was able to go ahead despite limited access to crews and restrictions on working arrangements.
"We're hopeful volunteer planting activities will be able to return to normal next Autumn and we can complete further work in partnership with FRV and our other program supporters," he said.