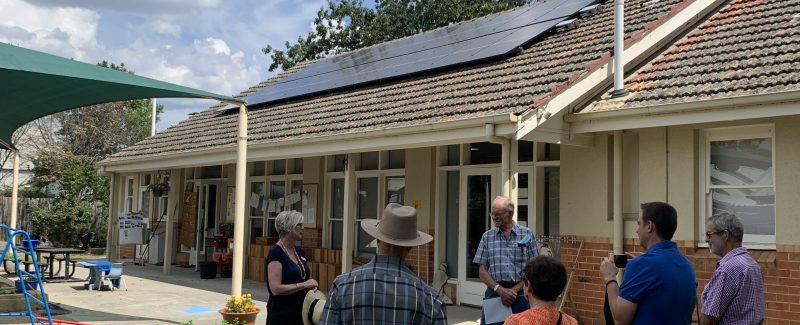 Rooftop solar to bring down bills for local pre-school
April 29, 2022
Bernard Briggs Pre-school is expected to save around $1500 a year on electricity, thanks to some newly installed solar panels.
The project was funded through the Winton Community Grants program and Benalla Sustainable Future Group's Renewable Energy Benalla (REB) project.
Benalla Sustainable Future Group are supporting community based renewable energy projects across the region.
Winton Solar Farm and federal Member for Indi Helen Haines were invited to the opening of the 6.6KW solar system, and thanked BSFG for the opportunity to be involved in the program.
Dr Haine (MP) spoke of the importance of developers working with local communities to deliver the benefits of renewables to the region.
FRV Head of Asset Management, Sab Hari was delighted to work with the Benalla Sustainable Future Group through the Community Grants Program.
"Winton Solar Farm is delighted to once again support the Benalla Sustainable Future Group's Community Energy Project, and the installation of solar panels at Bernard Briggs Pre-school.
FRV has a long and proud tradition of supporting community-led innovation and education.  This initiative is a perfect combination of these pursuits."
To date over $120,000 has been awarded through the Winton Solar community grants program. The program will continue for another two years.